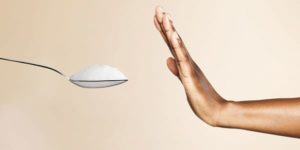 Give up sugar. 
Easy on foods that turn to sugar (breads, pastas, pizza, fried potatoes).
Start your day with warm to hot water with lemon. Helps get liver, gallbladder and digestive system releasing.
Drink at least half your weight in ounces of water/day (best between meals).
Chew food to a liquid. Will help you be satisfied with less, and help your body digest, absorb and eliminate faster.
Use smaller plates, helps with portion control.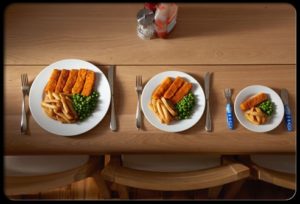 unsweetened ginger tea. All help your body digest food.
Cook from scratch, at the minimum go for premade meals that are real/few ingredients. Even Costco has pretty incredible looking family meals.
Plan a weekly menu, then buy ingredients for that and those alone.
Shop outer four walls of grocery store. That's where most of the real food is.
Never go grocery shopping on an empty stomach. Shop with your own bag or basket. NOT a shopping cart. Helps to buy no more than you can carry.
Pack your own snacks AND water each and every time you will be gone, especially past mealtimes.
Eat during hours that serve your body best (10-11am to 6-7pm).
Know what foods are weight gainers for your blood type. For B+ corn is one. For O's it's wheat and dairy.
Coffee enemas do more than help with pain and clean blood, they are INCREDIBLE for weight loss and natural healing of cancer. They are how Jack Osborne lost lots of weight, won in kickboxing AND beat his addictions. They are also what some holistic cancer clinics use. To the tune of FIVE/day. We crave what is in our blood, coffee enemas take that away. Be it food, drugs or alcohol. They are how I helped one get off three hardcore drugs. And what I use for pain.
Sweat and movement. Excellent way to keep puffiness off and toxins out.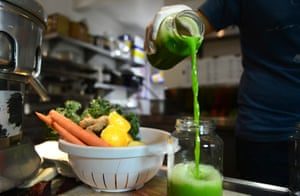 Save treats for a special occasion (wedding, party, social gathering). They are not a treat if we are having daily.
Treat everyday like a special occasion. Meaning, aim to look and feel your best every day instead of for an event of sorts. Many mind their "P's & Q's" to look their best for a one day event, when it should be the other way around.
Ask yourself how a certain food or drink will make you look and feel. For better or worse? Helps tremendously! That and a mirror.
In time consider seasonal detox. It'll help what ails you, free you of cravings and keep toxic disease producing weight out and off.
Key to keeping weight off is by having at least one daily bowel movement. Like babies and pets that poop shortly after. Constipation is not a disease but WILL INDEED lead to one. Diet can make or break us, while detox is a win-win.
Eat healthy most hours of day and days of week.
Losing weight and keeping it off is easy with self respect alone.
Lastly, do inventory of your kitchen (cupboards and fridge) at least twice a year. Warmer months and colder.
Should I remember more, I will add to this list. In the meantime, CHEERS!